Rosemary essential oil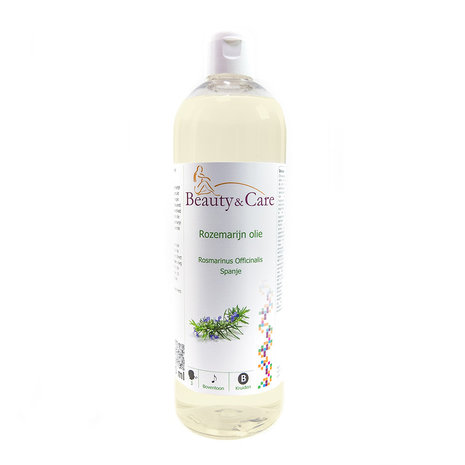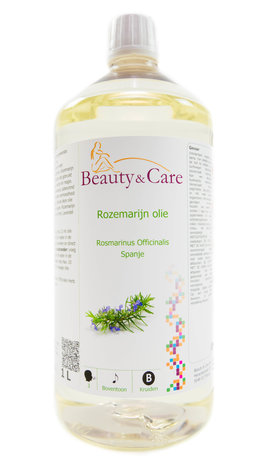 Product description
Fragrance Rosemary oil
Rosemary essential oil gives a fresh, spicy Rosemary scent.
The whole Rosemary plant smells spicy with a clear camphor note.
The fragrance is mildly spicy, warm and more floral than the camphor and cineol chemotypes.


Operation Rosemary oil
The essential oil is good to use in the morning.
Rosemary essential oil counteracts bacterial growth and works as a pick-me-up.
Rosemary was already used by the Romans to improve memory and concentration.
That is why this oil is often used for studying and during work.


What is the essential oil used for?
Rosemary is also a symbol of fidelity.
That is why it was used in marriages.
People with cold feet and hands benefit from Rosemary.
Rosemary is widely used in cooking to season meat and other dishes.
The essential oil gives a feeling of warmth.
The perfume industry mainly uses rosemary oil in men's perfumes and eau-de-colognes.
This essential oil is used herein as a top note.


Use rosemary oil
- In the sauna: add 5 to 10 drops to an ice ball or to the water in the sauna tub
- In an aroma burner: add 2 to 4 drops to the water in an aroma burner
- On an aroma stone: add 2 to 4 drops to the stone of the aroma stone
- In a diffuser: add 2 to 4 drops to the water in the diffuser
- In a massage oil: add up to 25 drops of Rosemary oil to 250 ml of Sweet Almond oil for a natural, energizing massage oil.
- For steaming: add a maximum of 1 to 4 drops to boiling water and steam with a towel over the head
- In the steam room: add 2 to 4 drops of essential oil to a sponge and place it in a stainless steel bowl under the steam pipe
- In the bath: for Rosemary in the bath, use our Rosemary bath oil because otherwise Rosemary essential oil will float on the water.
Do not use this bath oil just before going to sleep because this bath oil has a stimulating effect.
- Rosemary is suitable for people with low blood pressure.
- Do not take the essential oil pure or use it pure on the skin.
- Rosemary is particularly suitable for sensitive and irritated skin.
- Do not use during pregnancy.


Rosemary oil can be mixed well with
The essential oil mixes well with basil, citrus oils, cedarwood, pine, lavandin, lavender, lemongrass, eucalyptus, mint, peppermint, bay leaf and petit grain oil.


The Rosemary plant and the extraction of the essential oil
This natural essential Rosemary oil is extracted by steam distillation of the evergreen shrub with upright branches, narrow needle-shaped leaves and light blue flowers. The name probably comes from 'ros maris' which means sea dew.
The Rosemary plant has been considered sacred in the past.
In many countries Rosemary was known as a protector against evil spirits.
It takes between 50 and 100 kilos of plant material (flowers, leaves and twigs) to obtain 1 liter of essential Rosemary oil.
Rosemary is a colorless to pale yellow essential oil.
About the bottles
The 5 ml and 20 ml brown glass bottles contain a dropper and a child-friendly cap and the 100 ml brown glass bottles contain a pipette.
The liter bottle is used as a refill pack.
Product specifications
Article number

1800594

SKU

20001774

EAN

8717825912211

Botanical

Rosmarinus Officinalis Herb oil

Base

Essential oil

Scent

Fresh, spicy Rosemary scent

Origin

Spain

Group

Herbs

Strength

3

Note

Heart Note

Season

Summer
Show more
Show less