Beauty & Care Gift package perfume special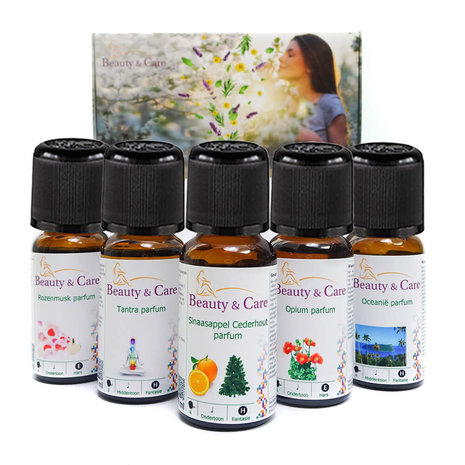 Product description
All these special perfume scents can be combined well with each other and are excellent for use in:
- sauna
- aroma burner
- aromastone
- diffuser
- humidifier

Gift package perfume special contains:

- 20 ml Orange Cedar Wood perfume
- 20 ml Rose musk perfume
- 20 ml Opium perfume
- 20 ml Tantra perfume
- 20 ml Oceania perfume

The package is delivered in individually wrapped gift boxes per fragrance for the 20 ml bottles and a gift box for the entire package.

20 ml = 400 drops. 5 x 400 drops = 2000 drops
Only 3 to 10 drops are needed per use to obtain a good scent.
With this set you can probably go ahead for a while.
Orange Cedarwood is a citrus, floral and woody fragrance.
Rose musk is a warm, floral fragrance.
Opium is a warm spicy fragrance.
Tantra is a sweet-floral fragrance.
Oceania is a sweet, citrus, woody perfume.
Product specifications
Article number

450420

SKU

94200290

EAN

8717825914789